Research News
Dr. Minmin Luo's lab published a paper entitled "Learning and Stress Shape the Reward Response Patterns of Serotonin Neurons" in The Journal of Neuroscience
Publication Date:2017/08/15
On 8th Augest, 2017, Dr. Minmin Luo's lab published a paper entitled "Learning and Stress Shape the Reward Response Patterns of Serotonin Neurons" in The Journal of Neuroscience. This study revealed that reward learning induced ramp-up activation in serotonin neurons that differed from that in dopamine neurons, indicating complementary roles for these two neuron types in reward processing. Moreover, stress treatment substantially reduced the reward responses of both serotonin neurons and dopamine neurons, suggesting a possible physiological basis for stress-induced anhedonia.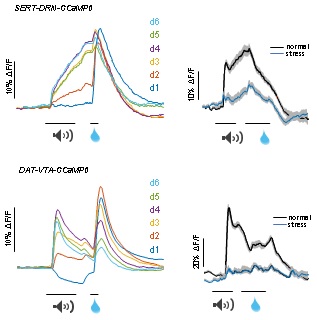 The ability to predict reward promotes animal survival. Classical Pavlovian conditioning, in which a previously neutral item (the conditioned stimulus, CS) is repeatedly paired with a biologically salient stimulus (the unconditioned stimulus, US), helps animals acquire the ability to predict upcoming event. Both dopamine neurons in the ventral tegmental area (VTA) and serotonin neurons in the dorsal raphe nucleus (DRN) participate in reward processing. Although the learning effects on dopamine neurons have been extensively characterized, it remains largely unknown how the response of serotonin neurons evolves during learning. Moreover, while stress is known to strongly influence reward-related behavior, we know very little about how stress modulates neuronal reward responses.
Fiber photometry is a useful imaging method for chronic monitor of the neuronal activity. In this study, we specifically label the serotonin neurons and dopamine neurons via infusing the Cre-dependent adeno-associated virus AAV-DIO-GCaMP6m into the DRN of SERT-Cre mice and the VTA of DAT-Cre mice. We trained mice with Pavlovian conditioning by repetitively presenting an auditory cue with delayed delivery of a sucrose solution, and monitor the neural activity of serotonin neurons and dopamine neurons via fiber photometry. We find that learning differentially shapes the response patterns of serotonin neurons and dopamine neurons. Serotonin neurons gradually develop a slow ramp-up response to the reward-predicting cue, and ultimately remain responsive to the reward, whereas dopamine neurons increase their response to the cue, but reduce their response to the reward. For both neuron types, the responses to the cue and the reward depend on reward value, are reversible when the reward is omitted, and are rapidly reinstated by restoring the reward. We then found that stressors including head restraint and fearful context substantially reduce the response strength of both neuron types to the cue and the reward. Our results indicate that serotonin neurons and dopamine neurons play complementary roles in reward processing. Moreover, acute stress may negatively affect reward processing by suppressing the responses of both serotonin neurons and dopamine neurons.
Weixin Zhong and Yi Li are the co-first authors of this project. Other authors include Qiru Feng. Minmin Luo is the corresponding author of this study. The study was funded by MOST, NSFC, and Beijing Municipal Government and carried out in NIBS.